By, Alise Nolan, The Ranch Kitchen
As far back as I can remember my mom made this side dish of Marinated Cucumbers and Onions. When summer hits and cucumbers are fresh and in mass, this recipe is an easy fix that you can take out each night with your evening meal.
My recipe below is my version of her cucumber recipe. My mom probably didn't use as much sugar as I do and you can most certainly adjust any ingredient or spice below to your liking. It's fun to just experiment and make it your own. On a hot summer's day there is nothing more refreshing to my family than this recipe.
The two recipe I share with you this month are those that use up our garden vegetables and are healthy for our family. Nothing compares to growing your own vegetables to serve your loved ones.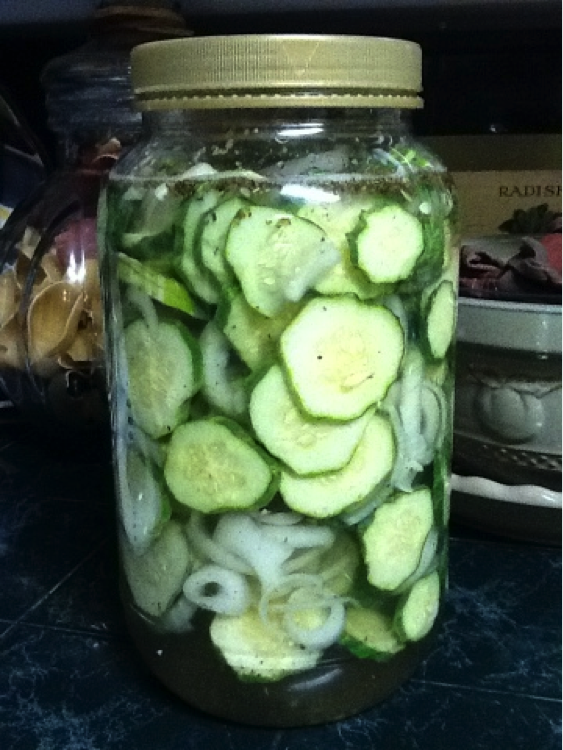 Marinated Cucumbers and Onions
Ingredients:
3 – 4 cucumbers (seedless variety are best)
2 onions sliced, white or red
1/2 cup sugar or non calorie sweetener like Splenda
3 cups cold water
2 cups white or apple cider vinegar (I usually use white vinegar)
2 teaspoons Italian Seasoning spice
1 teaspoon garlic salt
Pepper to taste
Tony Chachere's Creole Seasoning (a little – 1 tsp. goes a long way)
Optional Additions
Bell peppers, sliced in 1/2 inch strips
Sweet banana peppers, chopped in bite sized portions (one inch in size)
Tomatoes, Cherry or Roma tomato varieties
Dill weed, fresh or dried
Directions:
Clean and slice cucumbers and onions in to 1/4 inch wide rounds.  Place in a large container with a lid or a large bowl. Add other vegetables, water, sugar, vinegar, and seasonings. Allow to marinate in the refrigerator for at least two hours or longer. I prefer overnight.
We enjoy taking these cucumbers out at each night as a side with dinner.  This will keep for one week.
***Throughout the week we add more cucumbers and onions as needed.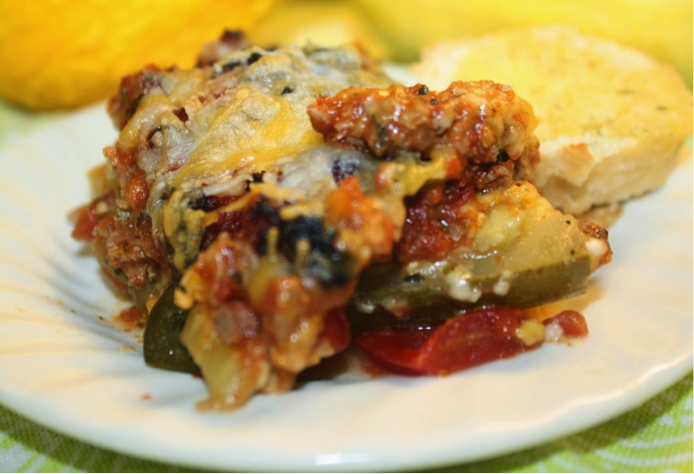 Vegetable Lasagna
Ingredients:
2 yellow squash, sliced in 1 by 4 inch slivers
2 zucchini, sliced in 1 inch by 6 inch slivers
2 eggplant, purple skins removed and cut in to 1 inch by 4 inch slivers (slices)
2 teaspoons Italian Seasoning
1 teaspoons Slap Your Mamma Seasoning or any Cajun/Creole Seasoning or multi-purpose All Seasoning Spice
2 cups cheddar or any grated cheese of your choice (I used a Colby Jack mixed cheese)
1 cans Rotel Tomatoes with Cilantro and Lime Juice
1 cans Spaghetti Sauce (I used Hunt's 4 Cheese variety)
2 pounds ground pork or beef, cooked and crumbled fine (I used ground pork)
1/2 cups Parmesan cheese, grated
Directions:
Slice and prepare all vegetables and layer in a 9 x 13 inch Pyrex dish or long rectangular cooking dish.
In a pan, cook sausage or beef. Drain excess fat and add spaghetti sauce and blend well.
While this meat is cooking, season with Cajun season with every layer and Italian Seasoning. *A little goes a long, long way!
Add 2 cups of cheddar cheese over the top of the vegetables.
Add one can of Rotel Tomatoes with Cilantro and Lime over the top of the cheese.
Add meat with spaghetti sauce on top of cheese and vegetables.
Cook in the oven at 275 degrees covered with foil for approximately 1 hour. When you are able to see the dish bubble on the sides and when you can fork through the center of the vegetable lasagna, your dish is cooked.
Take out of the oven and sprinkle with Parmesan cheese.
Return to the oven and allow to bake for five more minutes until cheese melts.
Serve and enjoy! We enjoyed the Marinated Cucumber recipe above with this dish recently.
Note: I did not add cubed onions and garlic to the meat as it cooked, but that would be a great addition.