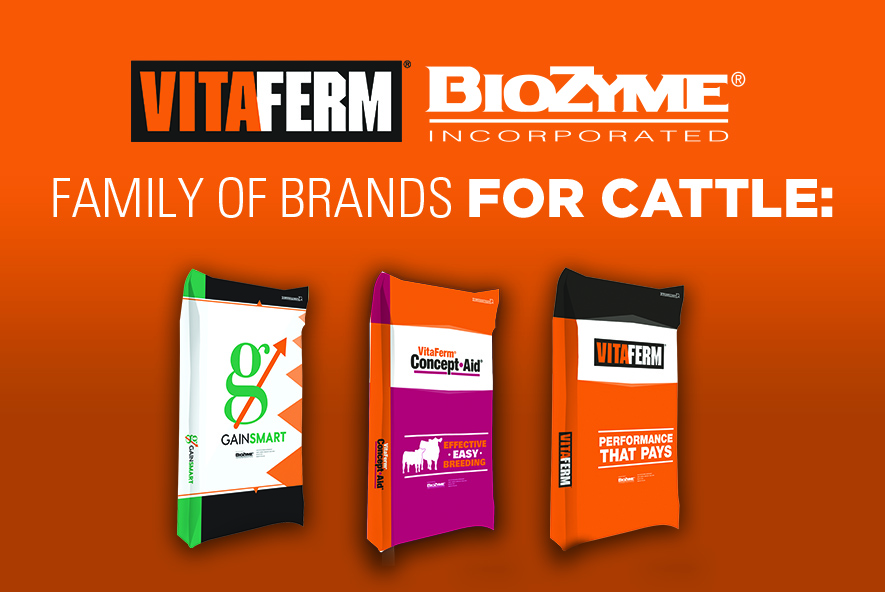 If you are in the cattle business, chances are you've likely heard of VitaFerm®, and perhaps over time you've mistaken VitaFerm as a company. If you have, you aren't alone. However, VitaFerm is one of several offerings in the family of brands manufactured by BioZyme® Inc.
VitaFerm is a line of nutritional supplements for beef cattle that maximize energy and forage utilization for successful production. VitaFerm is BioZyme's flagship mineral that was first introduced by company founder Larry Ehlert several decades ago. It contains AO-Biotics® Amaferm®, a prebiotic research-proven to enhance digestibility.
Within the last decade, beef cattle product offerings were expanded to include stockers and weaned calves. The Gain Smart® mineral was introduced as a free-choice vitamin and mineral supplement for stocker cattle designed to maximize efficient gain. Four formulas exist to give those backgrounding calves in various scenarios options: Gain Smart Stocker, Gain Smart Wheat, Gain Smart Balancer RU 1600, and Gain Smart Stocker HEAT®. As their names suggest, they are designed to best complement the diet. Gain Smart Balancer RU 1600 contains rumensin for improved feed efficiency.  
The Gain Smart Stocker HEAT is one of many products that contain the HEAT technology, a combination of essential oils and garlic to support animals when heat and insects are a challenge.
While the Gain Smart formulas focus specifically on stockers and weaned calves, VitaFerm itself is tailored towards the cow-calf market, thanks in part to the VitaFerm Concept•Aid® products created to help promote effective, easy breeding when fed 60 days pre-calving through 60 days post-breeding. Several formulas exist to tailor to individual management scenarios. To find the Concept•Aid formula right for your operation, visit the Concept •Aid Navigator.
In addition to Concept•Aid, VitaFerm offers several other formulas. Cattlemen's Blend™ is an all-purpose free-choice vitamin and mineral supplement for beef cattle on pasture that supports nutritional health. Cattlemen's Blend complements a wide variety of forages to ensure nutrient requirements are correctly balanced.
For those trying to conserve spending, while still providing adequate vitamins, minerals and Amaferm to their herd, there is VitaFerm Conserve®. Various options of VitaFerm Conserve exist in both a loose mineral and in a tub. All formulas feature a complete, but economical vitamin and mineral package. 
A complete line of VitaFerm HEAT products is also available. In addition to the HEAT technology, all VitaFerm HEAT products also contain organic copper, iodine and zinc for maximum bioavailability, innate immunity and hoof health. The VitaFerm brand also offers formulas with ClariFly®.
"From conception to harvest or conception to rebreeding, BioZyme makes a nutritional product that is right for any scenario. Once you've invested in your genetics, you don't want to gamble on your nutrition. We believe in precision nutrition, where we provide options within a premium line of products that match the exact needs of your animals and your available resources. Maximizing genetic potential through the best nutritional program allows cattle to work for you and your customers," said Chris Cassady, Ph.D., BioZyme Beef Technical Sales Manager.
BioZyme offers nutritional support for every sector of the beef industry. For the seedstock operation, commercial cattle producer or the backgrounder, there is a complete vitamin and mineral program with Amaferm designed specifically for your scenario. Perhaps you'd like to mix Amaferm into your own ration? You can do that, too. To learn more about Amaferm and the options that are available, visit www.biozymeinc.com.