By Alisa Nolan, The Ranch Kitchen
With school just around the corner, feeding the kiddos or even yourself in the morning can get a little hectic. One of our favorite breakfasts are these soft tacos. These tacos are easy to make and freeze well if you make them in bulk over the weekend. Just wrap them in foil, freeze, and microwave for a minute wrapped in a paper towel and place some of our Nolana's Family Hot Sauce in a small container to serve alongside. You will quickly have a breakfast everyone will love!
Recently, I made this meal while we at the lake for the weekend and warmed my tortillas on the grill. Setting the tortillas, eggs, sausage and cheese up in row like stations make this a fun breakfast for everyone to put together. Breakfast soft tacos are also an easy breakfast to make for a crowd of hungry ranch hands, friends at your county shows like my daughter Ilissa does or any other events where feeding in bulk is a necessity. The Nolana's Family Hot Sauce recipe keeps well for a week in the refrigerator after preparing. I usually freeze large batches after using my fresh tomatoes from our garden each year.
For more recipes like these, check out my site at The Ranch Kitchen. There are several breakfast casseroles there to help with your busy mornings.
Have a great start to fall and cooler weather! Enjoy!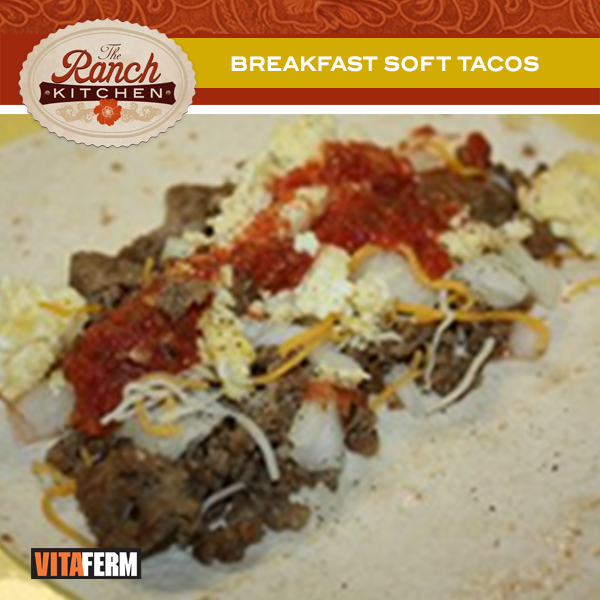 Breakfast Soft Tacos
Easy and a southwestern tradition, these breakfast soft tacos are wonderful to wake up too!
Ingredients
6 – 8 eggs, beaten and cooked to a soft scramble
1 – 2 cups bacon or sausage, cooked, drained and crumbled
1 cups onions, chopped (we prefer sweet onions)
1 – 2 cups Colby Jack or Sharp/Mild Cheddar Cheese
2 cups Tomato Salsa or Nolana's Family Hot Sauce (see recipe below)
4 – 8 flour tortillas (Mission brand are great)
Instructions
Cook bacon or sausage until no pink remains, drain and set aside.
Beat eggs and cook to a 'soft' scramble and set aside.
Prepare soft tacos by spooning 1/2 cup scrambled eggs with 1/4 cup bacon or sausage, 2 teaspoons chopped onions and top with cheese, tomato salsa and roll up to hold ingredients together.
Serve while warm and enjoy!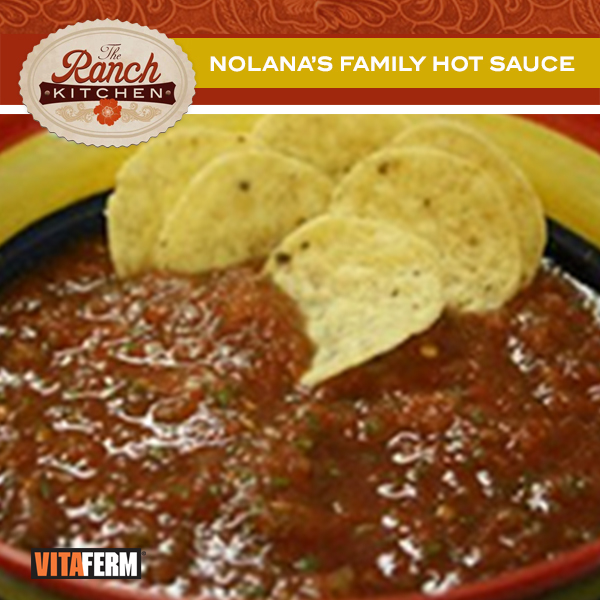 Nolana's Family Hot Sauce
This is our family recipe for our 'famous' hot sauce or as some call it salsa. It's famous because we all love it, you can't get enough, and stemmed out of a cute family story.
When the daughters were little and wanted to eat out one night, we told them we were going to Nolana's Family Restaurant. Of course, that was our house and my kitchen! Although Ilissa and Bethany were 4 and 8 years old, it took them a while to catch on. I even have a cute bucket my sister-in-law Leslie made for my kitchen to remind us of our story. Good memories for sure! You'll love this hot sauce! It's addicting!
Ingredients
2 cans tomatoes with green chills (not Rotel Tomatoes)
1 small sweet white onion, quartered (Texas A&M 1015's if you can find them)
1 half of a green bell pepper, seeds and pith removed
1 half of a sweet banana pepper (optional)
1 lime, juiced (watch for seeds falling in hot sauce & use a fork to juice the lime by twisting one half of it)
1 jalapeno, seeded
1 bunch cilantro, stems removed
1 teaspoon garlic salt
1/2 teaspoon cumin (optional – I sometimes run out of this spice)
2 teaspoons sugar (optional)
1 teaspoon black pepper
Instructions
In a medium to large food processor place tomatoes, onions, jalapeno, additional peppers, and spices (garlic salt, pepper, cumin, & sugar).
Pulse for ten seconds or to desired consistency. If you want your hot sauce or salsa chunkier, then only pulse a few times.
Add to hot sauce the cilantro mixture and pulse quickly for 2 seconds.
This hot sauce will keep for up to one week in the refrigerator. You can also use other onions like traditional white and yellow cooking onions, but I think the sweet onions like Texas A&M's 1015's make the hot sauce taste even better.
Serve Nolana's Family Hot Sauce with tortilla chips, on the side of your favorite Mexican food, with fresh cooked peas or on the top of your breakfast burrito or eggs. It's simply addicting and we rarely ever buy store bought hot sauce or salsa anymore. Travels well for camping trips and tailgates on ice in Ziploc bags and sealed containers like Mason jars or plastic containers.
Cook's Note: We freeze this hot sauce in the summer when I use my fresh tomatoes from my garden.  Blanch and skin your tomatoes before placing in your food processor and use about 2 cups. Since fresh summer or organic tomatoes are naturally sweet, I do not add the sugar. Freeze in serving sizes or you will waste this precious hot sauce!