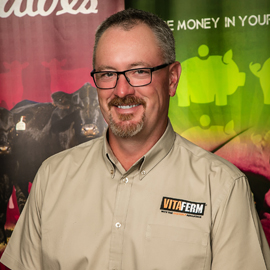 We are excited to announce the hire of Guy Rusche of Garretson, SD as a BioZyme Area Sales Manager. In this position, Rusche is responsible for promoting sales of BioZyme products and supporting BioZyme's dealer network in South Dakota. BioZyme's supplement brands include VitaFerm®, Sure Champ®, Gain Smart™, VitaCharge® and Vitalize®.
Prior to BioZyme, Rusche worked as a Beef Specialist for Summit Livestock Facilities in Remington, IN. He has more than 20 years of experience in the livestock industry and a Bachelor of Science in Animal Science from South Dakota State University.
"Guy is a native of South Dakota who is very knowledgeable of the cattle industry and has the desire to provide excellent service to BioZyme's customers. He will be a great asset to the cattlemen in South Dakota," said Mike Wadle, BioZyme Director of National Sales – North.
Rusche also owns a herd of registered Corriente cattle and is a member of the South Dakota Cattlemen's Association, AQHA and the North American Corriente Association. Rusche grew up on a 3,000-acre diversified beef and grain operation, which included a commercial cow/calf and backgrounding/feedlot operation.
Rusche can be reached at (816) 596-8793 or grusche@biozymeinc.com.
To find your Area Sales Manager or a dealer near you click here.