By, Alise Nolan, The Ranch Kitchen
Before long summer will be here, and for this educator, my fellow teachers and students everywhere, it can't come soon enough! Nothing beats a little time off and fun in the sun.
At our ranch each summer, we go take a mini-vacation before the summer shows begin and school is officially out the first of June. Last summer we headed to Bolivar Pass off of Galveston Island south of Houston, Texas. We spent time with my husband, Scott's childhood friend, Tommy and his sweet family at their Amish built beach house. It was such a fun treat to once again be with them as we have done for so many years. We visited, swam, ate fresh seafood and grilled on the last night with steaks we brought from the ranch.
With the Memorial Day holidays almost here, this month I thought I would share some appetizers we made ahead of time and took along on that trip in our cooler. These are always a hit for the hungry kids after swimming to go with lunch or as a before dinner snack.
Happy almost summer and hope to see you on the road this summer at our summer state and national shows.  And on this Memorial Day, remember why we celebrate it….to celebrate and remember those who fought so that we may live in the land of the free, because of the sacrifices of our brave men and women service members of our past and present.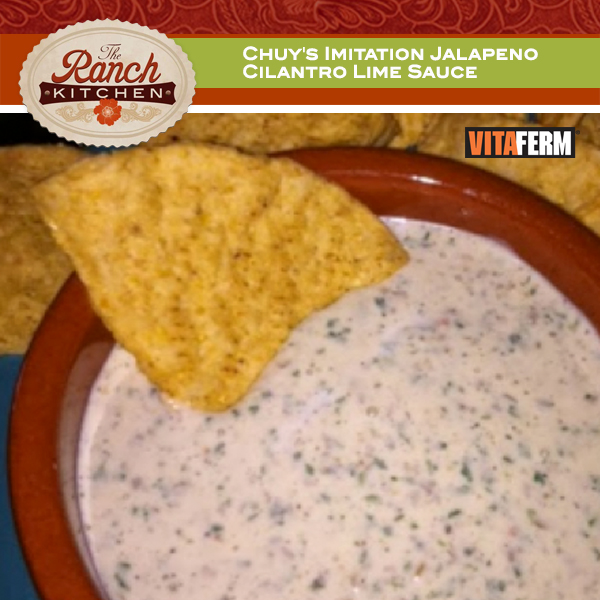 Chuy's Imitation Jalapeño Cilantro Lime Sauce
My daughter Bethany's imitation sauce from her favorite Mexican restaurant! Just adjust the peppers to your heat index. Perfect to make in a large double batches to bring out for Memorial Day festivities.
Ingredients:
1 cup real mayonnaise or 1 cup plain nonfat yogurt (we prefer Dannon`s)
1 cup buttermilk
1 to 3/4 cup jalapeños, canned or fresh & a little of the juice if from can (take out white insides and seeds to reduce heat and wear gloves or wash hands quickly!)
1 cup tomatillo salsa (store bought) or The Ranch Kitchen`s Tomatillo Salsa recipe
1/2 bunch cilantro, chopped
3 packs dry Ranch mix
1 teaspoon lime juice, optional
garlic salt to taste, optional
Instructions:
In a food processor or blender, pulse or chop cilantro and add tomatillo salsa, jalapeño, lime juice, real mayonnaise, buttermilk, and ranch dressing powdered mix. Pulse sauce and then taste. You might like the addition of garlic salt. Add 1/2 teaspoon of garlic salt at a time to taste, as a little goes a long way.
Serve with tortillas chips and enjoy! Or use a spoon like me, because it is just that good and addicting!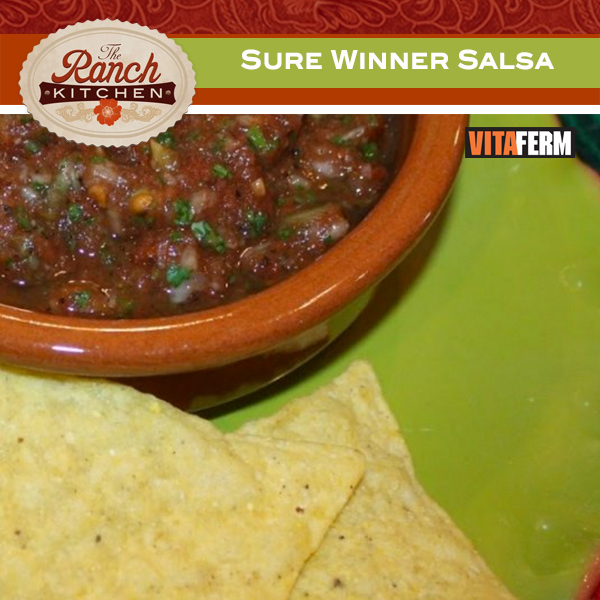 Sure Winner Salsa
My Sure Winner Salsa is chalked full of fire roasted tomatoes, onion, fresh cilantro and spices! You'll never buy store bought salsa again! This was one of the first recipes I created for Sure Champ that is always a top request! Make this times three or four! Your family and friends will love you for it!
Ingredients:
1 cans fire roasted tomatoes
1 onion, quartered
1 jalapeño
1/2 bunches cilantro
1 teaspoons pepper
1 teaspoons garlic salt
1 lime, juiced
Instructions:
In a food processor or blender, place the one can of tomatoes with juices. Add  onion that has been quartered in fourths, the jalapeño with or without seeds depending on your heat tolerance, lime juice (you can use lemon juice instead) and then all spices.
Pulse 4 to 5 times depending on the consistency you want your salsa to be. That means either 'chunky' with large pieces of vegetables or pulse more for a juicier consistency.
Keep refrigerated for up to one week. We serve this with corn chips or tortilla chips or my Tortilla Rollups. It's a family and friend favorite for sure!