Alise Nolan, The Ranch Kitchen
Easter weekend when our older daughters came in, we decided to cook one of our very favorite meals, Jambalaya (pronounced – JUM-bə–LY–ə). This Cajun – Louisiana Creole Spanish dish is much like a paella where rice and traditional meats like Andouille sausage (I used Eckridge Smoked Sausage), chicken and shrimp are cooked together. In addition to the meat and rice are tomatoes, Tony Chachere's Creole Seasoning and then the 'holy trinity' as they call it of celery, onion and garlic along with bell pepper, which makes everything taste fabulous.
Having Cajun roots on my side of the family, it is no wonder we love it the way we do. It's said that my great, great, great, great grandfather stowed away on a French ship and jumped off in the port of New Orleans. It's there my family roots started and slowly traveled up the bayous until they reached Northeast Texas. Needless to say, I am proud of my roots and thankful for that stowaway. With easy access to all the wonderful crawfish and seafood of the gulf coast and only an hour from Louisiana, Creole dishes have greatly influenced meals at our house. We love nothing better than a good crawfish boil where we spread the small lobster looking crustaceans out over newspapers on the picnic tables along with our jambalaya. We cook the crawfish in a large pot seasoned with Creole spices along with corn on the cob, new potatoes and button mushrooms. You peel the meat out of the tail, suck the juice out of the heads and eat them. It's not easy work, but totally worth the effort! Makes my mouth water just writing about it!
My 'The Ranch Kitchen's Jambalaya', is an easy main dish recipe that is an 'all in one pot' meal that doesn't require any sides other than crusty French bread and a green salad. My jambalaya is not far from most recipes except I used readily available Tony Chachere's Creole Seasoning to save on individual seasonings.
This recipe can easily be doubled or tripled for a crowd. You can use all the meats as we did, or use those your family enjoys.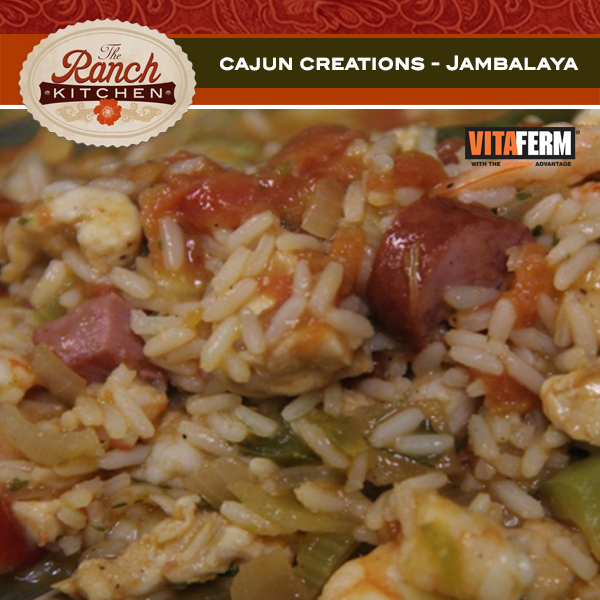 The Ranch Kitchen's Jambalaya
Ingredients
2 – 3 pounds Eckridge Sausage, sliced in bite sized pieces
2 – 3 pounds shrimp, uncooked, shelled and cut in to bite sized pieces
2 – 3 pounds chicken, cut in bite sized pieces
1 large onion, chopped in 1/2 inch chunks
4 cloves garlic, crushed
3 tablespoons vegetable or Canola Oil
2 – 3 stalks of celery, chopped
1 green bell pepper, chopped
1 can of tomatoes – 16 ounce
1 can of Rotel Tomatoes with Lime and Cilantro
5 – 6 cups water or chicken stock (I used a chicken bouillon cube allowing it to dissolve in one cup of water)
2 tablespoons Worcestershire Sauce
1 1/2 cups white rice (I prefer Uncle Ben's White Rice over all brands)
2 – 3 tablespoons Tony Chachere's Creole Seasoning or any Cajun seasoning of your choice
Salt to taste (usually around 1 teaspoon)
Pepper to taste (about 1 teaspoon)
Instructions
Chop onion, bell pepper, celery and crush garlic and sauté on medium heat in a non-stick large Teflon pot or wok until vegetables are translucent.
 Add chicken and sausage and continue to cook until chicken is no longer pink in the middle of each piece.
Add chicken broth or water (with chicken bouillon cube dissolved in one of your cups of water), Worcestershire Sauce, Tony Chachere's Creole Seasoning (one teaspoon at a time to your taste), both cans of tomatoes (Rotel and chopped tomatoes) then salt and pepper to the pot and bring Jambalaya to a boil.
Reduce heat and add 1 1/2 cups of white rice, cover pot and continue to cook on low heat for 20 minutes or until rice is cooked and most of the liquid is gone.
Add uncooked shrimp to the pot and cook for five minutes until they turn pink in color.
Serve Jambalaya with Tabasco Sauce on the side for those who like the extra 'heat'.