Pick up any livestock publication circulated this time of year and you'll find articles about the "do's and don'ts" of weaning and starting new arrivals on feed. You'll see the usual discussions about vaccinations, ration and feeding recommendations, water quality, and maybe some management suggestions on fence line weaning or the best approach to early weaning. This is all good information and vital to a calf's successful transition from grass and milk to dry feed and hay. One of the most important management practices is often overlooked – what can you do to drive appetite?
If a new arrival doesn't have an appetite or is slow to adjust, problems will almost always occur; no matter how well you design your ration or feeding facility. Calves that eat have a better immune response and are less likely to get sick. If there's an outbreak, you can bet that calves with good appetites won't be affected as severely and will respond more rapidly to treatment.
A Sure-Fire Solution
The VitaFerm® Sure Start Program® with the powerful advantages of Amaferm® gives your calves what they need to get through the first critical weeks. Amaferm, the key ingredient in all VitaFerm and Vita Charge® products, stimulates appetite and feed intake by increasing rumen fermentation. Calves start faster and stay on feed through ration adjustments and environmental changes.
Proven Results
Research and field demonstrations support the many reports from satisfied VitaFerm Sure Start customers. Here's what you can expect:
Accelerated appetites, increased dry matter intake: Kansas State University, DMI at day 10 = +18%
Rapid shrink recovery and early weight gain: University of IL, ADG at day 15 = +17% and NE Feedlot, ADG at day 30 =+8%
Efficient weight gain: University of IL, F/G 1st 15 days = +13%
Improved overall health: Cattle eating and gaining have stronger immune responses and are less likely to get sick
Sickness at Weaning: It Costs You More Than What's Obvious
A "Ranch to Rail" study by Texas A&M University shows just how much sick animals can cost you in terms of overall profit. Obviously, you lose in poor gains and medicine expenses, but also in quality grade. If you're trying to sell reputation cattle, you can't afford to let calves get sick at weaning. Carcass data will come back to haunt you!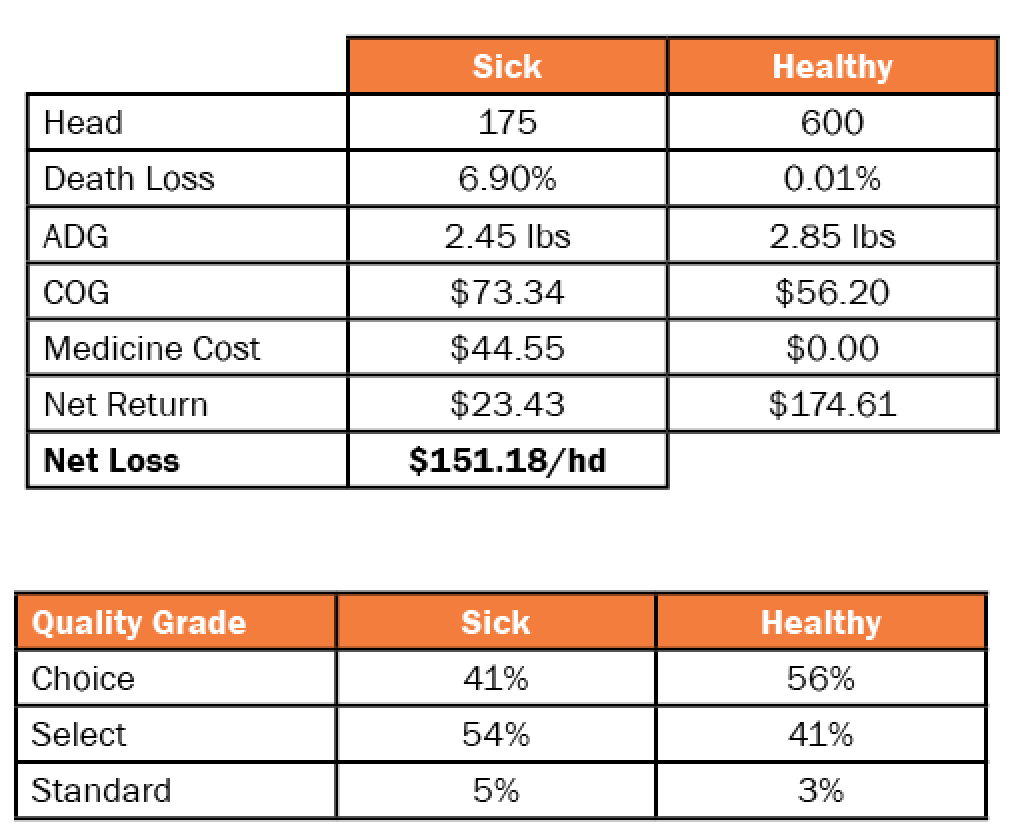 Nutritional Support
The free nutritional services that BioZyme® offers you and your customers should not be overlooked. Whether it is incorporating the Sure Start Pac Pellet into a current ration or working with our nutritionists to create your own ration we have the support staff that will help you get your calves started right. If you have any questions about a specific product or would like one of our nutritionists to look at your program, please contact the BioZyme Nutritionist Team at (816) 344-5762 or visit with your Area Sales Manager.