We always love to hear the impact that Amaferm has made in the lives of your animals. Nicole Richardson sent us a message with high praise for Sure Champ Horse.
"Recently, I had a friend that had a rough experience with a trainer. The horse was a really nice horse, but when he came back from 30 days at the trainers, he had lost so much weight. He also came back lame and a little lethargic. He's been home for two months now and she hadn't been able to put any weight on him, his coat was shaggy, his overall health wasn't good, and they were continuing to dump money into him. After some encouragement she started feeding Sure Champ on July 21.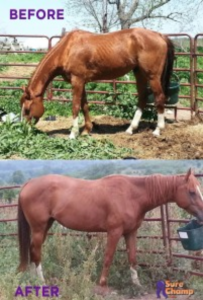 We took the horse's after picture on July 30. He looks like a completely different horse! He's put on weight, coat is cleared up, eyes are perked up; he's doing so well. It's amazing the difference, and in only a week and half! I've always believed in the product, but the fact that it turned this guy around in that short amount of time solidified my belief. I am so happy that we were able to help this horse out."
To learn about our complete line of equine products click here. If you have a testimonial, nutrition or product question please click here.