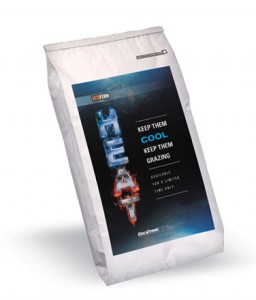 Summer means heat stress, and a loss of performance in your cow herd. Cattle responses to heat stress include reduced dry matter intake, decreased average daily gain, decreased milk yield, and decreased fertility and poor reproduction. To you this loss of performance means a loss in profitability.
BioZyme is excited about our newest mineral, VitaFerm HEAT, specifically formulated for summer heat stress and fescue forage situations. This vitamin and mineral supplement contains Amaferm and Capsaicin, which are both research proven to lower body temperature, which can help improve conception rates and maintain pregnancy. Capsaicin is actually a pepper extract that acts as a vasodilator, which opens blood vessels and allows heat to dissipate faster therefore keeping the cow cooler.
In addition, VitaFerm HEAT also contains garlic a natural insect repellent. To learn more about HEAT click here or visit our Dealer Locator to find product near you.