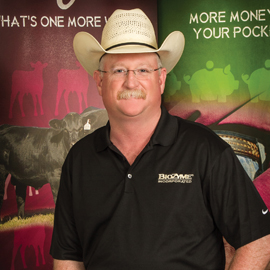 We are excited to welcome Joe Faulkenberry as a new member to our Area Sales Manager team. Joe will be covering North Texas and is excited to help producers and VitaFerm dealers with their nutritional needs.
Faulkenberry has been involved in farming and ranching his entire life. He attended Tarleton State University and earned his bachelor's degree in agriculture business.
Prior to joining BioZyme, Faulkenberry worked in the animal health industry for 18 plus years as a Distribution Sales Representative for Walco and a Manufacturing Sales Representative for Neogen.
Faulkenberry, his wife, Carol, and two daughters, Scotta and Kenna, reside in Stephenville, TX. He is very proud of Scotta and Kenna's accomplishments on their collegiate meats judging teams. Prior to the girls heading off to college they were very involved in showing sheep and their local FFA chapter. Today, his family enjoys working with cattle.
Click here to contact Faulkenberry.