For the last several years it has become a tradition for BioZyme® to share its Sure Champ® Christmas Wish Lists. This year we have made one specifically for our VitaFerm® customers. If you have family members or friends that are hard to buy for, then let us help you check them off your list.
Travel Mug – $30 – Keep those drinks hot or cold while checking cows with these personalized mugs from The Crazy Rooster.
Black Blazed Faced Cow Toy –  $13.50 We love these real life toy cows from the The Stock Show Toy Co. They have several colors and breeds available.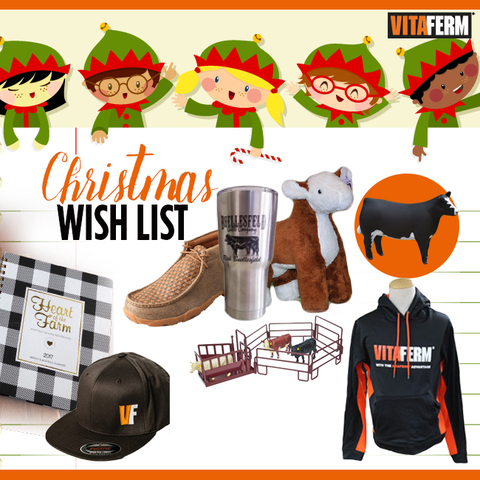 Stuffed Toy Cow –  $150 – We know plenty of kids, both big and little, that would love to have one of these stuffed cows from Maine Aim Ranch under their tree on Christmas morning.
Heart of Farm Planner – $59 – This gorgeous planner by Heart of the Farm contains beautiful farm photographs, calendar pages and check lists for daily farm tasks.
Little Buster Cow Set – $69.95 – Recreate those fond memories of raising cows on the living room floor with this cow and corral set from Little Buster Toys.
VitaFerm Sweatshirt – $45 and VitaFerm Flex Fit – $16 – Represent your favorite mineral with our VitaFerm apparel. Our online store contains a huge selection of sweatshirts and hats.
Twisted X Driving Moccasin – price varies – These Twisted X moccasins have become a barn favorite. Available in both men's and women's styles, you'll love how comfortable these shoes are.